Joshua 5:13-15. 13 When Joshua was by Jericho, he lifted up his eyes and looked, and behold, a man was standing before him with his drawn sword in his hand. And Joshua went to him and said to him, "Are you for us, or for our adversaries?" 14 And he said, "No; but I am the commander of the army of the Lord. Now I have come." And Joshua fell on his face to the earth and worshiped and said to him, "What does my lord say to his servant?" 15 And the commander of the Lord's army said to Joshua, "Take off your sandals from your feet, for the place where you are standing is holy." And Joshua did so.
"Now I have come."
These are the words of the angelic commander of the Lord's army to Joshua. And they are his same words to us today. Now I have come to fight. To fight for your holiness.
For forty years the Hebrews have been led by God's angel. Out of Egypt, through the Red Sea, across wilderness, and to the promised land. An unbelieving generation of Israelites has died. Moses is gone. Joshua now commands the Hebrew army. And the walled city of Jericho awaits. There's about to be a battle.
Advents always require a battle. A battle for holiness. If you don't think you're in a battle as you wait for Christ to return, then you're not paying attention to what's going on around you spiritually. As soon as mankind sinned in Genesis 3, God promised a hero who would crush the Serpent. He promised a future battle. The first advent of Christ was a battle. The second advent of Christ will be a battle. And the advent of Christ's life into your life has brought an ongoing spiritual battle to bring holiness to your heart.
As Joshua prepares for his first big battle against Jericho, God offers him the greatest of assurances – his own holy presence. Now I have come. An angelic advent.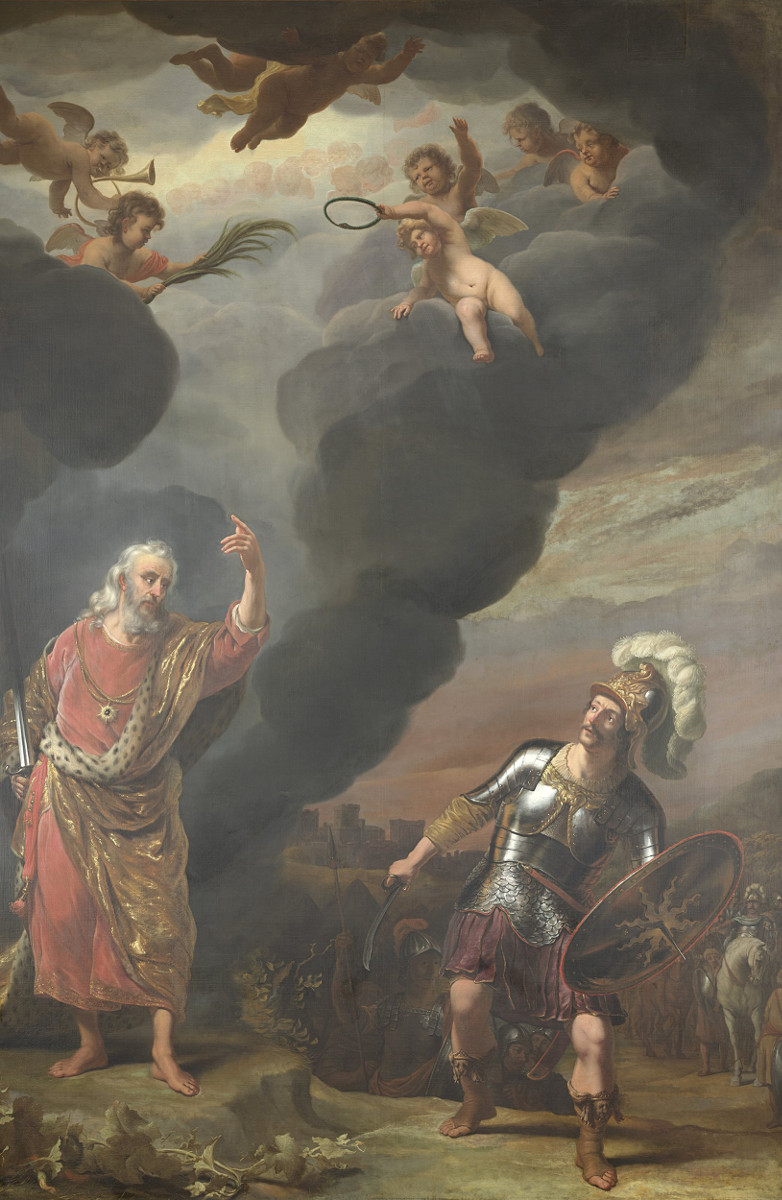 The Captain of the Lord's Army Appears to Joshua (1662), Ferdinand Bol (1616-1680).
This is obviously no ordinary angel. He identifies himself as the commander of the army of Yahweh. He receives Joshua's worship, and, like Moses at the burning bush, declares the ground around him to be holy – Take off your sandals from your feet, for the place where you are standing is holy. It's pretty clear that this Angel is God. The pre-incarnate Christ.
And so Joshua bows in worship. The commander of Israel's army humbles himself before the holiness of the commander of Yahweh's army.
Advents always result in worship. Hopefully the worship of God. Why? Because that is in fact the whole purpose of the battle. The war God is fighting for humanity is a worship war. A battle for our holiness as we stop worshiping the false gods we have created and instead worship the God of the universe, our creator, savior, and king.
We see this in the strange response of the Angel to Joshua's question – Are you for us or for our adversaries? The Angel's answer is simply No…but I am here. "I'm not for one side of humanity over the other. I am FOR Yahweh."
God is on God's side. The Trinity is for the Trinity. And so when it comes to humanity, God is on everyone's side. Because all of humanity has a worship problem. A holiness defect.
You see, Joshua's physical war against the people of Canaan is not genocide or an anti-Canaanite prejudice. It's actually part of God's spiritual war FOR all humanity. For God's glory through humanity's holiness. And that is why the commander of the army of the Lord arrived. Not to simply wage a physical war, but to wage THE spiritual war.
One day the commander of the army of the Lord would declare now I have come again. Not as a man with a drawn sword, but as a babe in a manger. Not for a physical war against human enemies. But for a spiritual war against humanity's true spiritual enemies. A battle fought not with a sword, but with the cross. The weapon of love. A violent love that would win the battle that Joshua never could.
This is the spiritual battle of Christ that now rages in your soul. The commander of Yahweh's army declares now I have come to live in you so that I can fight for you. For your heart. By his union with you Jesus has marched around the wall of your soul. He has shouted the battle cry of his mercy and blasted the trumpet of his grace. That's advent. Every brick of darkness and selfishness torn out of your heart and mind as you worship him in the beauty of his holiness.
Are you actively experiencing the battle for holiness in your life? How does knowing that the commander of Yahweh's army is joined to your life encourage you in this ongoing battle?